Did you know that fall spinach is a gateway vegetable?
Well, at least according to me.
Fall spinach is the vegetable that first got me hooked on cold weather gardening.
The first season I planted it for fall growing I got lots of big, delicious harvests throughout September, October, and November. I was pretty pleased.
Then it got cold over the winter (okay, that's an understatement, I do live in Wisconsin) and the spinach was covered in snow and I forgot all about it.
Then, in spring, when the ground started to thaw and the sun returned and started getting me in the gardening mood, I went out to my garden to do a little clean up. Imagine my surprise when I realized that not only was the fall spinach from the previous year still alive, it was actually growing again.
It totally blew my mind.
I had no idea a vegetable in my garden could survive the harsh winter of Wisconsin (something I can barely manage to do myself!).
Thus began my love affair with the toughest vegetable I know – fall spinach.
This is a very different vegetable than the persnickety one known as spring spinach. That plant can barely produce more than one harvest during the spring months before going to seed. It's barely worth planting.
But, fall planted spinach, be still my heart! One planting can provide as many as eight months worth of spinach harvests.
Take that, you delicate spring planted spinach.
Let me use some photos from my garden to illustrate why you, too, should fall in love with fall spinach.
Fall Spinach: Why It's the Most Amazing Vegetable to Grow
Here's a season in the life of fall planted spinach as an illustration of why you must plant it in your garden this year.
Spinach should be planted 4-8 weeks before your average first frost. After years of experimentation and record keeping, I now plant it about 8 weeks before my frost, which is mid-August in my zone 5 garden.
In the video at the end of this article, I show you how to calculate the frost date for your area.
August 22: One of the beds of fall spinach I planted about a week before is germinating nicely!
.
September 14: I've already begun harvesting fresh salads for dinner from this planting.
.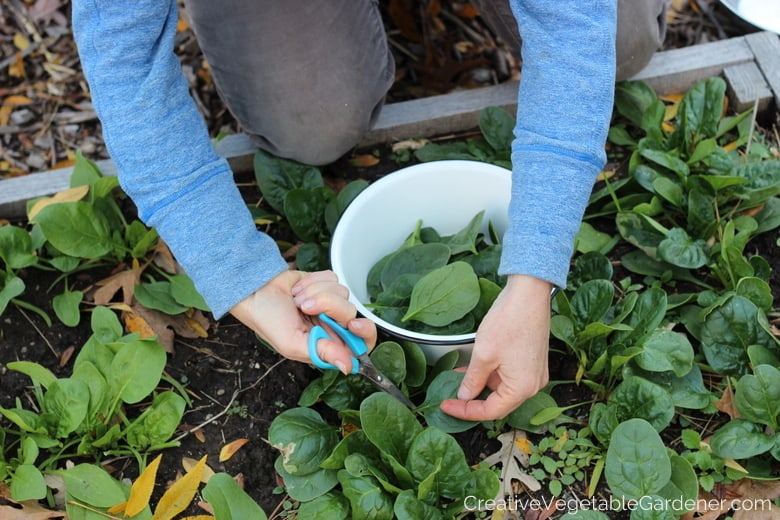 October 31: I'm still harvesting from my fall plantings. Sometimes I have more than I can use, so I pack it raw into freezer bags to use in my morning smoothies during winter.
.
November 21: This impressive harvest from my fall garden is getting packed into a cooler and taken to my in-laws for Thanksgiving dinner. Of course, we have to serve a spinach salad!
.
December 8: It's starting to get cold here in Wisconsin, so my spinach is freezing at night, but if the temps get above 32 degrees F and the leaves defrost I can harvest it for a salad that night.
Spinach can survive the winter in zone 5 with no protection. But, during some years I choose to add a low tunnel made of greenhouse plastic on top of my spinach. This keeps it warmer during the day and increases the chances it will defrost when it's sunny out.
I've also noticed that when I cover my spinach for the winter it bounces back and starts growing much earlier in the early spring.
.
Mid-December – March: Where I live plant growth stops during this time which means the spinach isn't growing anymore. I often try to save my last harvest for Christmas dinner. After that I let the bed rest for January and February.
February 19: The above photo is what the spinach bed looks like on this date. It's starting to wake up as the days get longer. In one very mild year I was able to harvest in February. Usually it's not until March when I get my first spinach harvest.
Remember, this is the same spinach that was planted the previous August!
March 24: By this time the spinach has started to grow again and I've likely harvested from it a few times. This particular year we got a late snowstorm that covered the spinach, but it was fine. The snow defrosted quickly and I resumed my harvesting schedule.
.
April 20: That same snow-covered bed from the previous photos is growing quickly now that it's warming up. I'm starting to have more spinach than I can eat. It's time to put some bags together for the neighbors!
.
May 12: I'm still harvesting from last August's planting. That's over eight months of spinach harvests from the same garden bed. Every year I'm giddy with amazement that this really works!
To review – I plant in August and harvest from that planting from September-December. Once in awhile I'm able to harvest in February. And every year I harvest in March-May. That's between 7-8 months of harvests from one fall spinach planting!
Sometime in May, the spinach starts to bolt due to the increasing daylight and warm spring temperatures. I also seed some new spinach in April, but honestly, it just doesn't compare. It also bolts by June, and at that point, I've only harvested from it two or three times.
That's why it's way more worth it to plant fall spinach. It lasts SO much longer than spring planted spinach.
That's the story of one little spinach planting! Have I convinced you why fall-planted spinach is the best vegetable ever?
Whew. I'm glad. That means you're going to get out there and plant some this season, right?
Check out this video where I teach you how to figure out your average first frost date, which spinach varieties are my favorite for fall planting, and how to find room for a few rows of spinach.
Additional Resources for Fall Gardening
FREE MINI-COURSE: Introduction to Extending Your Harvests with a Fall Garden. This mini-course features 5 videos and worksheets to help you:
Learn why growing a fall garden is SO easy!
Find out my recommendations for the best 5 veggies to start with
Get excited about what's possible with a fall garden when I give you a tour of all of the vegetables I harvest for Thanksgiving dinner
Discover how to find room in your garden for fall plantings + the best varieties to grow
Create a sample fall planting calendar to get you started
MASTERCLASS: Harvesting Fresh Veggies in the Snow. The key to having more fresh food right outside your door for more months of the year is to extend your garden season. And if you do it right, you can be harvesting delicious veggies for up to 10 months of the year, even if you live in a northern climate!
I live in Wisconsin, zone 5a, and every year I harvest food from my garden during most months of the year -without a heated greenhouse or any other expensive additions to my garden. In 25 different videos and accompanying worksheets, checklists, and calendars, I distill my years of trial and error down to just the essentials you need to know to help you plant and harvest from a robust cold weather garden.
BLOG ARTICLES: Read more about how to have an awesome fall garden in these posts.
.
SHARE IT ON PINTEREST