This post contains affiliate links.
During the winter when passionate gardeners like us can't be out in our gardens, what activities are good stand-ins? Planning our gardens, reading books about gardening, starting seeds, and listening to other people talk about gardening on favorite podcasts.
Do you sense a theme here? It's all about how to immerse ourselves in our favorite hobby without actually being in the garden.
If you're feeling blue about the big empty hole your garden leaves in your life in winter, don't fret, you can get your needed daily or weekly dose of gardening through other sources!
Personally, my sanity depends upon getting my minimum daily requirement of gardening all year round.
(I completely understand if the term gardening addict just jumped into your mind. I never said I wasn't crazy about gardening, did I?)
I recently shared five gardening books to put on your winter reading list. These are great for cold, dark winter nights.
But, there are certain situations in which it's difficult to read a book – taking a walk, painting your guest room, working on an art project, cooking dinner, driving the car…
Luckily, that's where podcasts come in. If you haven't jumped on the podcast listening bandwagon yet, it's time.
They're easy to access, especially if you have a smartphone, and there are hundreds of thousands of podcasts out there on every subject imaginable, including gardening.
Over the years I've researched and listened to many gardening podcasts, and I've even been a guest on some of them. Here are my favorite gardening podcasts to get you started listening and exploring!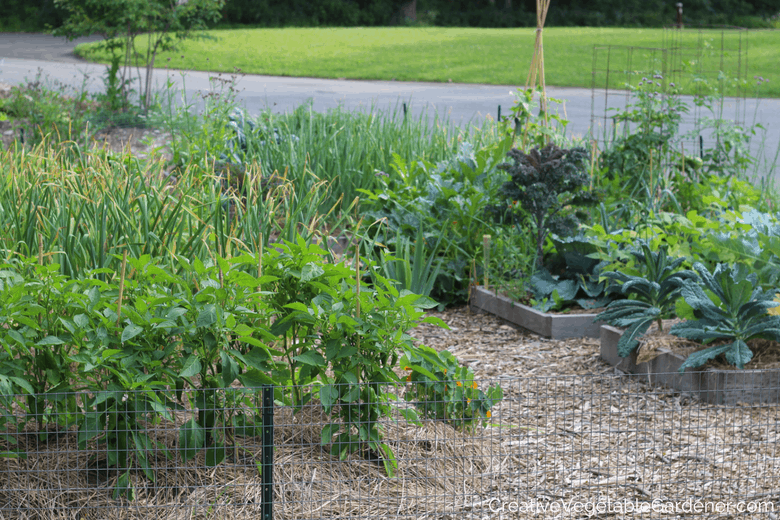 4 Favorite Gardening Podcasts to Put on Your Playlist

A Way to Garden Podcast
Margaret Roach is the former garden editor of Martha Stewart Magazine, which means she has a lot of connections in the gardening world.
She invites experts on to her show to share their knowledge of a wide variety of topics like insects, perennial gardening, birds, seed saving, and cooking.
Some recent episodes include the best heirloom tomatoes to grow from the author of Epic Tomatoes, how to use columnar trees and shrubs in your landscape and an interview with a cookbook author about making healthy soups.
As a fun bonus, she often has a book giveaway in conjunction with each episode. Check it out here.
Encyclopedia Botanica
This is such a clever name for a podcast! The host, Hilary Dahl, is a co-owner of the Seattle Urban Farm Company. They build edible landscapes, manage dozens of urban farms, and teach workshops across the region.
In my experience, the best people to learn gardening from are folks who grow food for a living. Hilary has a farming background and runs a vegetable gardening business, so her wealth of information is impressive.
Her partner also wrote one of my favorite gardening books, Food Grown Right, In Your Backyard: A Beginner's Guide to Growing Crops at Home.
Some of my favorite episodes are when she takes a deep dive into issues around growing specific vegetables like Brussels sprouts, blossom end rot on tomatoes, my all-time favorite veggie, spinach.
See the list of recent episodes here.
Their style of thinking and teaching about gardening is very similar to mine. If you like me then you'll love this favorite gardening podcast!
The Organic Gardener Podcast
Jackie Beyer, the host, is an artist, teacher, and gardener in Montana who manages to welcome a wide variety of guests from all over the country on to her podcast.
Her interview style is relaxed and friendly, just like you're chatting with a friend over coffee. I've been lucky enough to be a guest on her podcast several times, and one of my episodes is one of the most downloaded of all-time.
My interviews:
See a list of the other most popular episodes here.
Still Growing Podcast
Jennifer Ebeling is a committed and enthusiastic host and it shines through in each of her interviews. When I was a guest on her show we spoke like old friends on the phone for three hours!
I've been on her show twice to talk about each of my books. Her thoughtful and in-depth questions made it obvious she read my books and thoroughly researched the episodes.
She's had an impressive array of guests such as cookbook authors Anna Thomas Bates and Deborah Madison, and Joel Karsten of strawbale gardening fame.
My interviews:
See the most recent episodes on her website.
This winter, warm your lonely gardening heart by bringing along these enthusiastic gardening experts wherever you go.
I especially like my favorite gardening podcasts for tasks I'm not looking forward to like going out for a walk in the frigid Wisconsin weather, motivating myself to tackle mundane chores like cleaning the basement, or frustrating experiences like getting stuck on a plane on the jetway during the holiday crush of travel.
These favorite gardening podcasts will make it all better!
And if you're a book lover like me, check out the titles written by some of the hosts from the above podcasts.
If you're a garden who's serious about growing a lot of food, this book is for you! It's packed with the charts, tables, schedules, and worksheets you need to plan and execute a successful garden year after year.
.
This book was inspired by the questions the authors receive every day from beginning gardeners everywhere. In it they show readers they show readers how to build a garden from the ground up, explain general garden basics, discuss the best kinds of vegetables to plant and much more.
The garden editor and writer for Martha Stewart Living presents a richly illustrated gardening book that offers practical advice as well as an exploration of the underlying connections between the yearly cycles of gardening and the stages of life.
.
.
Margaret Roach has been harvesting thirty years of backyard parables-deceptively simple, instructive stories from a life spent digging ever deeper-and has distilled them in this memoir along with her best tips for garden making, discouraging all manner of animal and insect opponents, at-home pickling, and more.
.
.
Feeling unfulfilled in her career, Margaret Roach moved to her weekend house in upstate New York in an effort to lead a more authentic life by connecting with her garden and with nature. The memoir she wrote about this journey is funny, quirky, humble, and uplifting.
.
You can find my recommended garden supplies, favorite seed varieties, recently read books (I'm a voracious reader!) and more in my Amazon shop here.
More favorite gardening resources:
Save this article to your gardening board on Pinterest.