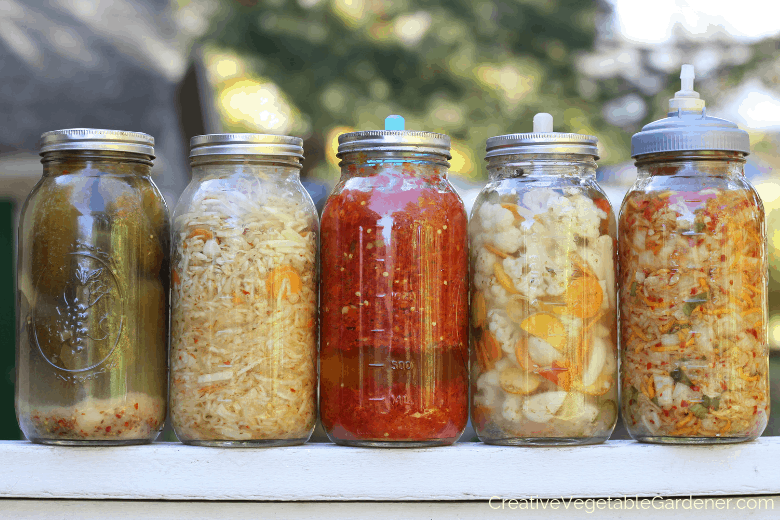 At first glance, fermentation may seem complicated and mysterious. How do you turn fresh vegetables into delectable fermented foods without magic? Well, I'm here to reassure you that no special powers are needed to understand and master the art of fermentation.
In fact, once you're familiar with the process and try a recipe or two you'll be shocked at how easy and foolproof it can be. I was a newbie about 18 months ago and now I'm obsessed with all things fermentation. For proof, come over and take a look at my kitchen counter right now, which has no less than five jars of vegetables in various stages of fermentation. Yum!
Once you start looking around the internet it's easy to become overwhelmed by the sheer volume of recipes out there. How do you choose? Luckily, I have a few shortcuts for you!

This post contains affiliate links.
The Best Fermented Food Recipes for Beginners
When I was a newbie fermentista I simply looked up a sauerkraut recipe on the internet and got to work. Imagine my disappointment a few weeks later when I excitedly tasted my new batch only to be disgusted by how it tasted. What a waste of cabbage!
After a few struggling sessions, some friends of mine suggested I check out the book Fermented Vegetables, by Kirsten and Christopher Shockey. The beginning of the book features a large section where they teach you all about the process of fermentation so you understand everything that's happening and feel confident that you can be successful.
The rest of the book features amazing recipes for pretty much any vegetable you might have coming out of your garden or happen to buy at your local farmers market. If you're looking to delve into the art of fermentation I can't recommend this book enough.
I love it so much that all of the recipes I'm sharing come straight from the well-worn pages of my copy of Fermented Vegetables. This post isn't sponsored, I'm just a fan of this book! Due to copyright laws I can't reprint their recipes on my blog without permission.
(Read more about the supplies you'll need to get started in this post.)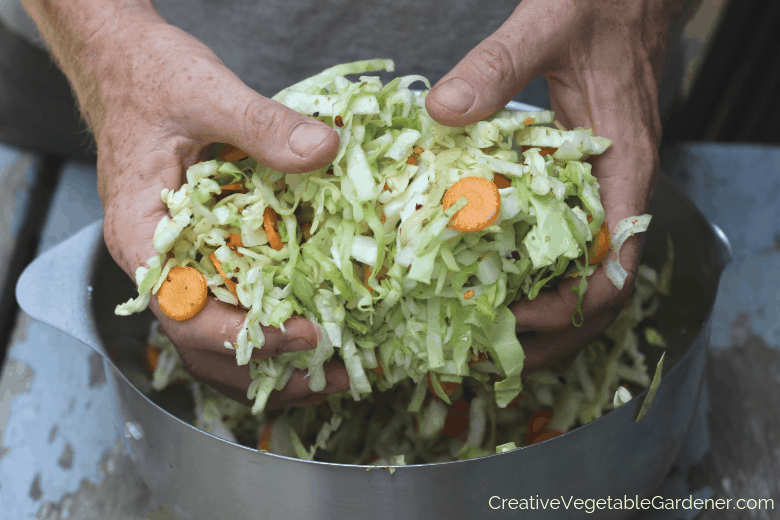 5 No-Fail Fermented Food Recipes
#1: Curtido
Sauerkraut is a very popular first ferment for many people. Especially where I live in Wisconsin, where our German heritage leads us to use it as a topping for bratwurst! Curtido is the Latin American version of sauerkraut – a spicier and zippier version of its plain cousin.
Featured Vegetables: I like the addition of onions, garlic, carrots in this recipe because I grow all three in my garden. You'll also be adding oregano, cumin, and red pepper flakes.
How to use it? I eat two fried eggs every morning for breakfast and always put a heaping pile of curtido on top. We also love it as a topping for tacos, include it in our hummus wraps, and put a dollop on many bowls of soup.
Where to find the recipe: Fermented Vegetables, pg. 133.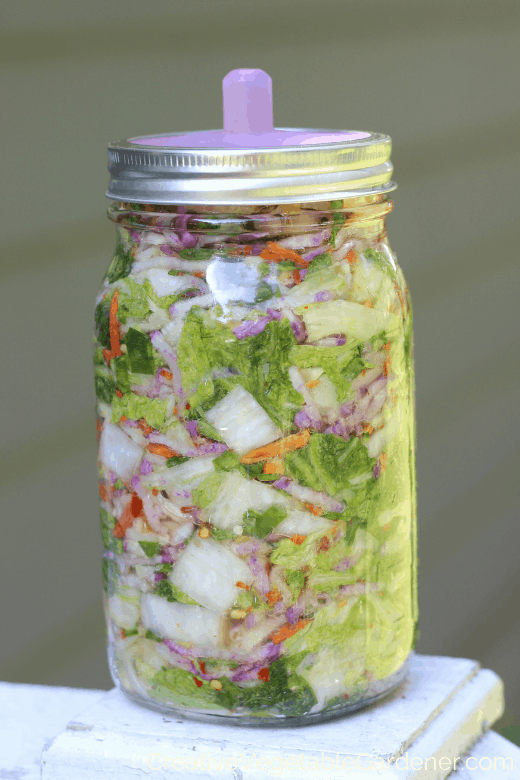 #2: Kimchi
Since I always have a least one half gallon jar of Curtido in my fridge I thought I'd branch out and try another cabbage ferment. Kimchi, a staple of Koren cuisine, features Napa cabbage instead of the regular garden variety cabbage you commonly found at the grocery store. I don't grow it in my garden, but I do have luck finding at least one farmer who's selling it at my local market in spring and again in fall.
Featured Vegetables: Kimchi also includes daikon radish, carrots, scallions, garlic, ginger, and chile pepper flakes.
How to use it? I use my kimchi in all the same ways I eat curtido – with eggs, in wraps, on tacos, and with pretty much everything else, except maybe chocolate…
Where to find the recipe: Fermented Vegetables, pg. 141.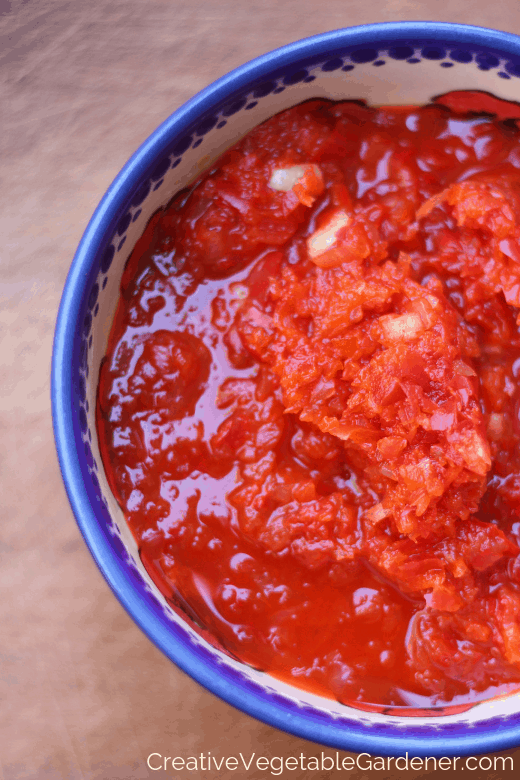 #3: Sweet Red Pepper Salsa
This sweet and spicy fermented salsa looks and tastes like tomato salsa, but you'll be surprised to find out that the recipe calls for zero tomatoes. I usually make it once or twice in late summer and early fall when my red pepper plants are pumping out baskets of fruit. I'll often mix in yellow and orange peppers as well.
Featured Vegetables: Red peppers, jalapenos, onions, and garlic.
How to use it? We have a tough time keeping this ferment in stock throughout the whole winter. It goes quickly, even when I make over a gallon. It's delicious on anything you'd regularly eat with tomato salsa – tacos, burritos, enchiladas, chips, etc.
Where to find the recipe: Fermented Vegetables, pg. 215.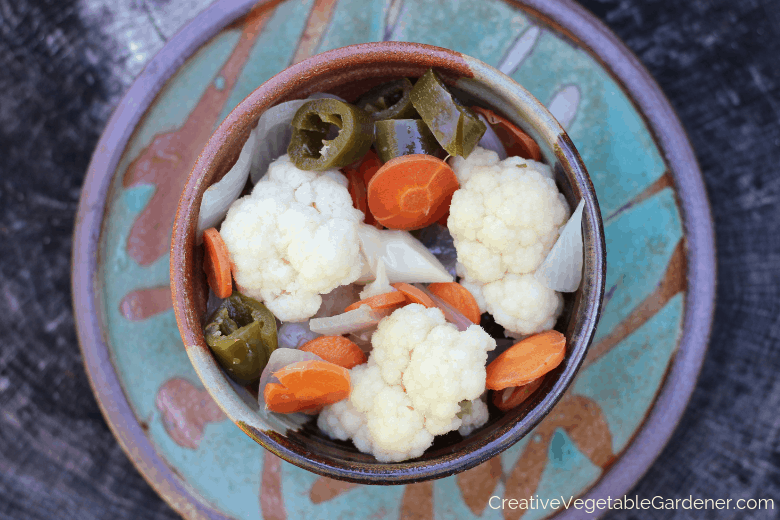 #4: Edgy Veggies
The authors were inspired to create this recipe by the dishes of pickled carrots and jalapenos served in many Mexican restaurants. I love how the cauliflower remains crisp and crunchy and the peppers lend some heat to the mix.
Featured Vegetables: Cauliflower, carrots, jalapenos, onions, garlic, oregano.
How to use it? My husband eats a small bowl for an after work snack several days of the week. I like to slice some up and use them as a quick and savory topping for tacos.
Where to find the recipe: Fermented Vegetables, pg. 155.
#5: New York Deli Style Pickles
I have memories of reaching my hand into the pickle barrel at the corner deli when I was a child in Philadelphia. The pickles there were firm, crisp, and likely to elicit a "sour puss" when bitten into. Those are my favorite kind of pickles and this recipe doesn't disappoint. I make the sour face every single time!
Featured Vegetables: Cucumbers, garlic, bay leaves, dried chiles, mustard seed, dill seed or fresh dill heads.
How to use it? We eat a lot of hummus wraps when traveling and my favorite accompaniment is a handful of pickle spears. Popping a whole pickle into your mouth for a mid-afternoon snack is also encouraged!
Where to find the recipe: Fermented Vegetables, pg. 168. Go for the full sours!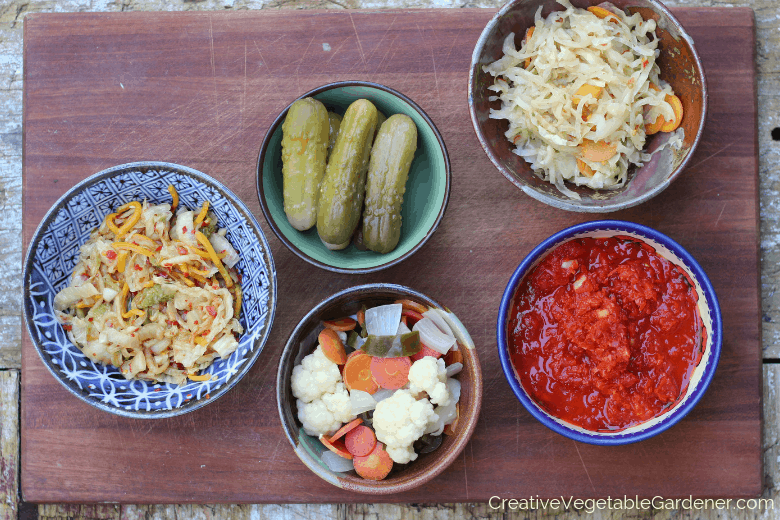 When you're ready to dive into learning how to turn fresh vegetables into nutrient-packed fermented foods I hope these five recipes will lead to many delicious meals and many more experiments in the kitchen.
Read more about the supplies you'll need to get started in this post.
What're your favorite fermented foods recipe? Share in the comments below.